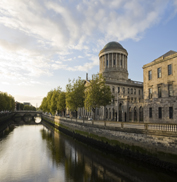 Young Offenders
Michael Staines
Lecture to "Codifying the Criminal Law: Modern Init iatives" Conference of the International Society for the Reform of Criminal Law
13th July 2008
I started working in the Children's Court as a defence advocate in approximately 1979 and for the next ten years spent much of my working life there. During that period and indeed up to the present day I also spent time working with different juvenile projects in the North Inner City. In the course of that ten years I probably got to know 80% of all the children who appeared before the Children's Court. Two fundamental points occurred to me quite quickly as a result of my work.
Firstly, we should do our utmost to deal with children within the community from which they come. Secondly we should strive to keep them not only out of juvenile detention centres but also out of the juvenile justice scheme. After thirty years I still hold that these two concepts remain true and should be strived for as much as possible.
Large numbers of interested parties have been demanding reform in the juvenile justice system over the past forty years. The Kennedy committee which was set up by the Government made numerous recommendations in relation to juvenile justice when it reported in 1970. Many of these reforms have been introduced. The age of criminal responsibility has been increased, the outdated 1908 Children's Act has been repealed and many other sentencing options have been given to Judges who deal with children. However the root problems remain the same.
The Children's Court was moved initially from Dublin Castle then to Morgan Place and then to Smithfield. The court in Smithfield has been refurnished leaving it with an extremely large cell (!) and a courtroom which is so designed that it is like a sauna in summer and an ice box in winter. As usual none of us working in the area were asked to advise in relation to these cosmetic changes. What has not changed over the period is that young children are carried on conveyor belts through the best designed educational system we have in this country. Educating the kids for crime is not something we should be proud of however. The Children's Court performs the function of a kindergarten where neophytes meet other people and indeed older people much better educated than they are in various criminal techniques and concepts. These older kids will often take them on as apprentices and will eventually give them something that society will not – a job. This job is, however, in the criminal sector. The court proceedings themselves are a mystery to the kids. They go in to a small room where they listen to judges, guards and solicitors speaking in an archaic language, are they going to elect for a trial on indictment, do they permanently deprive the owner? Even adults find this type of language hard to understand. This workshop is been run under the auspices of the International Society for the Reform of Criminal Law. Because of the peculiar way which our legislature repeal, substitute and amend previous legislation I find in quite difficult to understand new provisions in new legislation. If I do, the children being brought before our Children's Court are in an even more difficult situation. The sooner the criminal is codified in this Country the better.
Moving up through our educational system they will attend the primary schools of St Michael's and St Laurence's and the Secondary Schoo ls of Oberstown, Trinity House and St Patrick's (which in the words of Fr. Peter McVerry is "a disaster and an obscenity") and will eventually graduate to Mountjoy or Wheatfield. At that stage over two thirds of them are committed to the life of crime. If one was asked to design a system to foster the development of criminality in the country we could not devise a better scheme. Children who appear in the Children's Court have one characteristic in common, almost all are children who come from a deprived background. I can say this anecdotally but many reports confirm this and I commend the report of Dr. Jennifer Hayes and Dr. Gary O'Reilly published in 2007 which describes exactly the type of children that appear before our courts. That is not to say that middle class children do not commit crime but for whatever reason a child from such a background is a rarity in the Children's Court. Children Court Kids inhabit a world of wholesale unemployment and irrelevant education. Many come from broken homes, dysfunctional families and alcoholic parents. Of course these days many come from families riven by the drug menace. As we predicted back in the 1980's we now have situations where not only are the children taking drugs but their parents are drug addicts and worst still their grandparents are drug addicts. At University I studied Criminology and at that time one of the great unsolved problems was "what makes a person a criminal?". The idea was that if we could identify potential criminals we could divert them from a life of crime and thus immediately ameliorate their and society's future. In today's Ireland there is not the slightest problem identifying a large number of kids who will appear in the Children's Court in the future and we can identify them even before that they are born. I know that the social workers and community workers that I associate with in my work in the North Inner City would be in a position to prepare a list of the names of children who will be in trouble in fifteen years time. Many years ago Peter McVerry made the same comment on the Late Late Show. In my mind's eye I prepared a list of clients that my office would be acting for in fifteen years from then and that list proved to be correct. Since we have this information the onus rests on society to divert these children away from the juvenile justice system and away from a life of crime. Instead society seems to prefer to spend huge sums of money on guards, courts, judges, solicitors, jails and secure residential centres rather than spending this money at an earlier stage when the children are growing up and when it is really needed. As I stated earlier my belief is than children should be dealt with in the community from which they come. If sufficient youth encounter projects, adventure sport centres and residential hostels were set up, my view is that many kids could be diverted away from a life of crime. Society does not appear to be sufficiently interested in these alternative methods of dealing with the problem. The Probation Service have had their allocations capped and several of the projects that we work with in the North Inner City have difficulties in obtaining sufficient funds. There does appear however to be plenty of funds to create children's detention centres (otherwise children's prisons). At the time Trinity House was created approximately twenty five years ago ( I recently got a letter indicating that they were celebrating! twenty five years of existence) this project cost millions to set up and at the same time inner city projects such as the Adventure Sports Centre almost had to close down due to lack of funds. This was a project that had great success with some children who were involved in stealing cars and driving them, by offering them the alternative of legal use of cars, motorbikes and at one stage a small hovercraft.
I remember well when both Loughan House (a children's prison) built in the wilds of Co. Cavan, (as far away from the children's community as possible) and Trinity House were opened. At the time there was a large amount of serious juvenile crime. Judges and police were demanding secure residential places. What happened? As soon as they opened the first facility all the places were taken by the first available kids that came along including kids that only had two or three convictions. A large number of the kids who were causing the real damage missed the cut and were from then on untouchable. These children had been threatened with secure residential placements and they went to Court expecting to take them up and were pleasantly surprised to find that there was no room for them. A threatened sanction that cannot be imposed is worse than no sanction at all. However, a strange thing happened. Some of these children ended up going to Tabor House, a residential unit which was set up in the North Inner City Community and dealt with kids at risk. Some were dealt with in the Youth Encounter Projects and Adventure Sports Project already spoken about and others just continued on their merry way. The surprising thing was that many of these children did much better than the actual kids who ended up in Loughan House and Trinity House and the reason for this is simple. The children came from a community, they must be dealt with within the community. It is madness to think you can take a city kid away from the city for two years and then dump him back into the milieu from which he has come without any real supports and expect him not to re-offend.On the other hand, if a child is shown love and affection and is brought up in a homely atmosphere within the community there is some chance that they will make it. At least he does not have to put up with the shock of reorganising himself back into a community from which he was wrenched two years previously.
In all the time that I was working in the Children's Court I came to the conclusion that there were only two kids of all the kids I dealt with who should have been locked up in Trinity House. By far the most difficult child I have ever dealt with went to Tabor House, the residential home already mentioned. During the period he was there he did not get into any serious trouble. When he left he recommenced re-offending and is now a drug addict and is seriously ill. However, the improvement in him as a person was phenomenal and I am of the view that with a few exceptions every child that passed through Tabor and other such projects received something from it which helped him in later years. Had there been a proper aftercare program to deal with the kids when they came out of the other inner city projects, they could have done even better. But even the children who re-offended seemed to me to be better human beings than they had been before they went into the projects.
The other child of whom I speak was the leader of a group that ransacked the city at the time. There was no room for him in Trinity House. He is now happily married and has settled down and as far as I can make out is committing no crime. Most of his colleagues are either dead or are seriously addicted to drugs such has been the effect of the drug problem. As indicated earlier, the drug problem which in effect commenced in Dublin in the beginning of the eighties has made a very difficult situation almost impossible. What chance has a twelve year old if both his parents are suffering from Aids and are drug abusers and, if indeed, that also can be said of his grandparents. Bringing such a child before the Court to listen to proceedings he cannot understand is nonsensical. Even young children of that age are now becoming addicted to heroin. They have to commit much more crime in order to feed their habit. These crimes are that much more serious than heretofore. Handbag robberies were almost unknown thirty years ago and serious aggravated burglary and robberies using weapons such as syringes have greatly increased and are being committed by juveniles. As I see it, the only possible answer is to attempt to divert potential offenders away from the juvenile justice system and especially the Children's Court.
There have been many attempts made to do just this and full recognition must be given to them.
There of course have been improvements over the past number of years. I am particularly impressed by the Garda Diversion Program and other work carried on by the Garda Juvenile Liaison Officers. The objective of the Diversion Program is to deal with children who commit crimes by way of a caution thus obviating the need to bring them to the courts and keeping them out of the criminal educational system which I have referred to earlier. I understand that the Liaison Officers also work with the families of these children and also with other projects in their area. Finally they spend time visiting schools and projects giving lectures and workshops to children. In the North Inner City there is a specific community/Garda project whereby members of the community and the Gardai can speak about matters which are causing difficulty in the community and thus help to avoid trouble before it actually starts.
As a result of the new legislation there are now many more non-custodial methods of dealing with children who are brought before the court. If these work this at least means that the children do not go to the prisons that I have spoken about. Again it would be preferable if the children never had to go to court at all but once they are there it is better that they are dealt with in the community as opposed to being taken away from it. I refer you to the list of community sanctions as set out on page 47 of the National Youth Justice Strategy 2008 - 2010, a copy of which is attached1. I understand that whereas one or two District Court Judges may receive some training in relation to dealing with children, the vast majority of them do not and in fact they are in the position of all other judges in this country who in my view ought to receive training in aspects of sociology, psychology, community studies and dealing with children. All the judges that I know who have worked in the Children's Court were sympathetic and had the children's welfare at heart but found the system very hard to deal with.
I also believe that the community and social workers who work in the communities from which these children originate now appear to be working much closer together to ensure that much fewer children slip through the net. A discussion as to what the various community groups are doing in the North Inner City would take up a full speech so what I have done is I have attached to my speech an update from the YPAR (Young People at Risk Initiative) which may be of interest2.
These community based projects need as much Government assistance as possible. All of the projects which I have mentioned were set up more or less at the same time as the famous Gregory deal when the Government under Charles Haughey was prepared to plough money into the North Inner City to obtain the vote of Tony Gregory TD. At the time there was a small number of very committed local community activists and who then started running these projects and who I can confirm worked way beyond the hours they were required to do. One of the aims of these groups was to get young people who possibly would have been at risk themselves to involve themselves in this type of work and perhaps become community workers themselves. This has succeeded to some extent but it is very hard to find the same level of commitment and vocation that was exhibited in earlier years. There have been many new projects, one of which is the Wexford Centre Project which is worth mentioning in some small detail. For transparency I must point out that I am Chairman of the Management Committee. It was felt that all the projects in the North Inner City could benefit if a premises was purchased down the country where each of the projects could bring the kids attached to that project to that house and out of the environs of Dublin for even a few days a couple of times a years. As a result of a private donation and of money received from the Irish Youth Foundation such a house was purchased in Wexford and huge support was then given to it by the Probation Services and the Eastern Health Board as it then was. This house has now become the jewel in the crown of community work in the North Inner City and many kids at risk, other kids in projects and their workers have availed of the facility in recent years. There are residential projects in the Inner City which also deal with kids at risk such as Tabor which I have mentioned already. It is projects like these that the Government should be financing rather than putting the money in to new prisons for juveniles. That having been said there is no doubt that St Patricks must be closed down and perhaps a juvenile prison such as the one envisaged for Thorntan Hall should be built. I cannot understand why it has to be built miles way from the community from which these kids originate and I see no reason why a purpose built prison could not be built on part of the Mountjoy Prison site rather than selling the whole thing off for redevelopment.
Other speakers will deal in much more detail with other initiatives. I am just sad that all the predictions that people such as Peter McVerry, Fergus McCabe and myself made twenty and thirty years ago have all been fulfilled.
The most troubling thing about all of this is that we talk a lot about problem kids. As indicated, I knew the vast majority of kids who passed through the Juvenile Justice System twenty years ago. Many of them have had great potential and talents that would have benefited society. In particular some of the girls had beauty, innate intelligence and personality so that if they had come from different backgrounds they would have been film stars or actresses. Some of the lads with great sporting abilities would have ended up playing for famous teams and indeed Ireland, if their potential had been realised. Some of the lads that we played soccer with and who were capable of destroying us on the football field are now either dead or are shambling drug addicts walking around homeless in their own city. That was the great waste. I knew it at the time and the District Judges also knew it. We all just seemed powerless to do anything about it.
Other people from my office now work in the Children's Court. You will hear speeches today from other persons who are working there. All of these people are saying now what I said twenty years ago. I can only hope that if this workshop is held in another fifteen years time that the speeches may then be different.