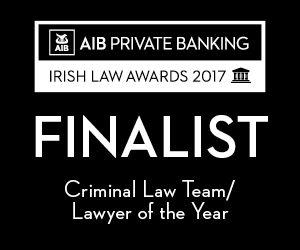 The team at Michael J. Staines & Company were delighted to learn that we have been shortlisted for Criminal Law Team of the Year at the prestigious Irish Law Awards 2017. The firm has been shortlisted every year since the inception of the Law Awards and won the award in 2012 and 2014. In 2015, Aoife Corridan was awarded "Young Lawyer of the Year". This year's shortlisting is testament to the depth of skill, talent and experience within the firm as well as to the provision of a service of excellence which is fitting to our profession, but above all, which is effected with humanity.
Our second nomination was in respect of the award for Litigation Team of the Year/ Litigation Case of the Year. This is an acknowledgement of the many succuessfull litigation cases the firm is involved including the case of DPP v Mihai Avadanei (challenge to the drink driving law) and LK v Minister for Justice (challenge to protect right to privacy) among others.
The Irish Law Awards take place on 12th May 2017.